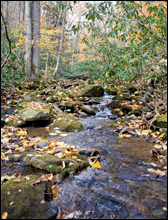 Welcome to the Maryland Watershed Restoration Assistance Directory. This tool offers one-stop shopping for anyone interested in finding funds or technical assistance to implement projects that restore Maryland's streams, rivers, bays, and watersheds.
Included are programs offered by a wide range of entities, including federal, state, and local governments, nonprofit organizations, and private foundations. Entries are in alphabetical order by topic. Each one is marked with symbols that indicate whether the assistance is funding ($), technical (T), or both. Each listing includes a description, due date, program web page link, and phone and email contacts.
This directory was created and launched by Maryland Sea Grant's watershed restoration specialists in 2012, with help from intern Virginia Vassolotti and in cooperation with many of the organizations displayed in the directory. If you have an idea for a project but are not sure where to start, contact a specialist. Find the agent in your region here: https://www.mdsg.umd.edu/extension-directory
If you see any information that is not correct, or have a suggestion for how we can improve this tool, please contact Jennifer Dindinger at jdinding@umd.edu.
Symbols:
$
- Funding Assistance
T
- Technical Assistance
A
Advocacy
Agriculture
Aquatic Resources
B
Best Management Practices
C
Capacity Building
Coastline
E
Ecosystem Management
Education & Outreach
Environmental Sustainability
Erosion Control
F
Fish & Wildlife
Forest Management
G-H
Gardens & Landscapes
Hazard Management
O-P
Planning & Development
Pollution Prevention
Public Policy
Q-R
Research
Residential
Resources
Restoration
S-Z
Small Grants
Stewardship & Conservation
Stormwater Management
Streams
Technology
Wastewater & Sewage
Water Quality
Watershed Buffers
Watersheds
Wetlands